Prezi is a visual storytelling software alternative to traditional slide-based presentation formats. Prezi presentations feature a map-like, schematic overview that lets users pan between topics at will, zoom in on desired details, and pull back to reveal context.
This freedom of movement enables conversational presenting, a new presentation style in which presentations follow the flow of dialogue, instead of vice-versa. The Prezi online and offline ZUI editors employ a common tool palette, allowing users to pan and zoom, and to size, rotate, or edit an object. The user places objects on a canvas and navigates between videos, images, texts and other presentation media. Frames allow grouping of presentation media together as a single presentation object. Paths are navigational sequences that connect presentation objects for the purposes of structuring a linear presentation.
1. 3D Atom Template for Prezi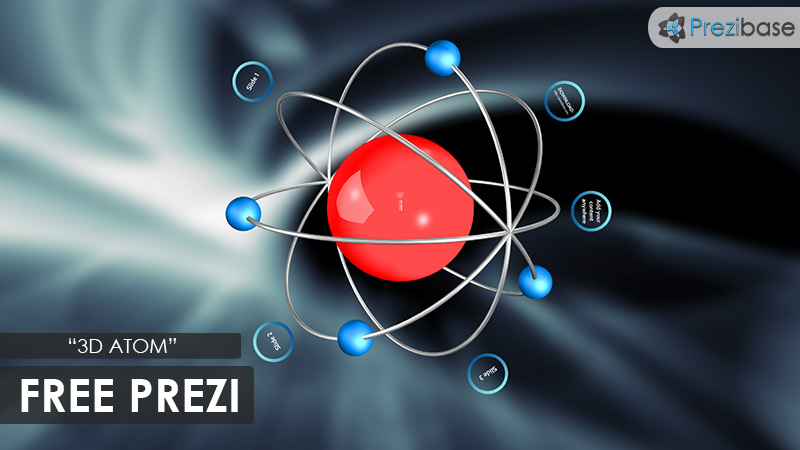 3D remake of the free & reusable atom Prezi Template. Includes a 3D atom image and a dark abstract background. Add your content inside the circular blue frames. Duplicate the frames to add more placeholders.
2. Free Blue Circles Template for Prezi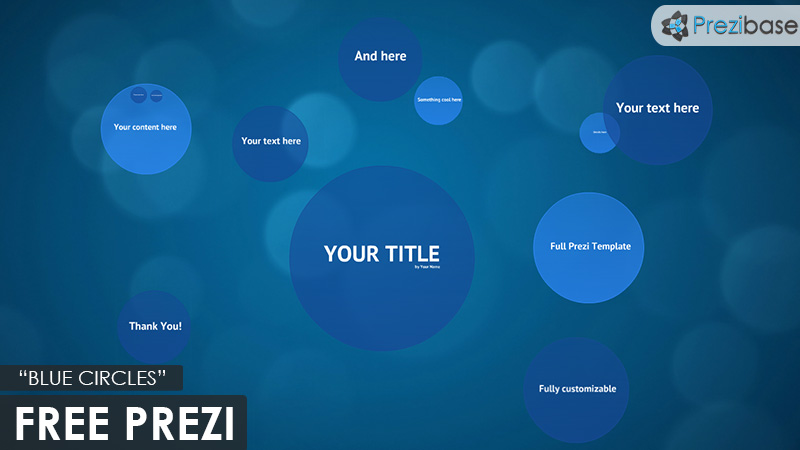 Blue Circles is a free Prezi Template with a blue bokeh effect background. Duplicate, delete or rearrange the circles and create a unique layout. 13 invisible frames already added to speed up your workflow.
3. Time to Explain Prezi Template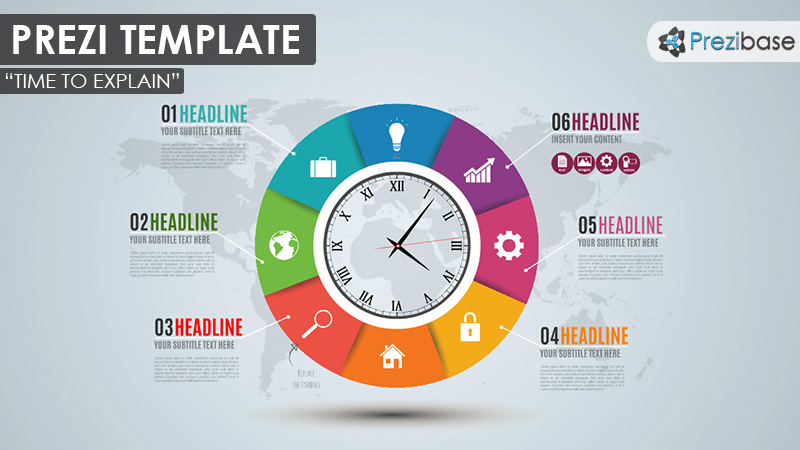 Prezi Template with a colorful circle and a clock concept in the middle with a world map background. A good infographic Prezi for explaining topics which are also somehow related to time, deadlines or duration.
Introduce your project, show the different parts of a company or just a creative business idea, talk about a cycle or a circular process.
Separated design elements: customize the layout by deleting elements and add your own background. Simple and minimalistic template with colorful layouts: suitable for a professional business or simple personal presentation topic. Talk about project deadlines, events, make a timeline or create an infographic circle design.
4. Hitting Targets Prezi Template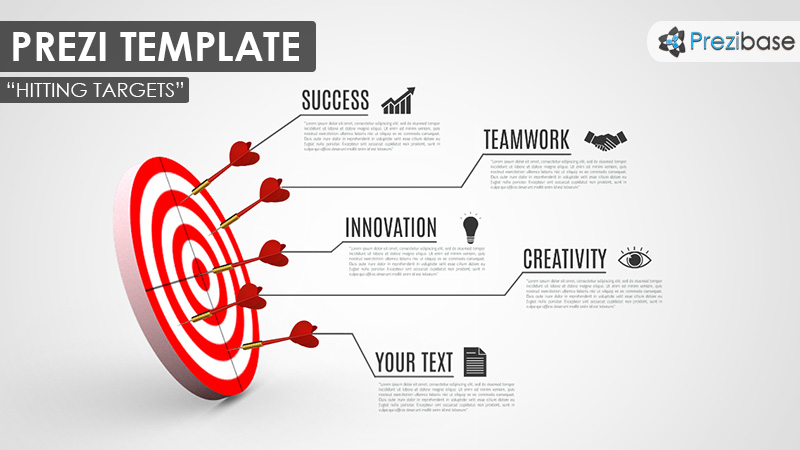 Hit the right targets – Prezi Template with a 3D red/white target symbol. Present your goals, zoom in and show how to achieve them.
Animate in your targets one by one using arrows/darts and then zoom into the details. A good prezi for presenting about business, strategy, plan, vision, marketing or personal achievements.
5. World Map Infographic Prezi Template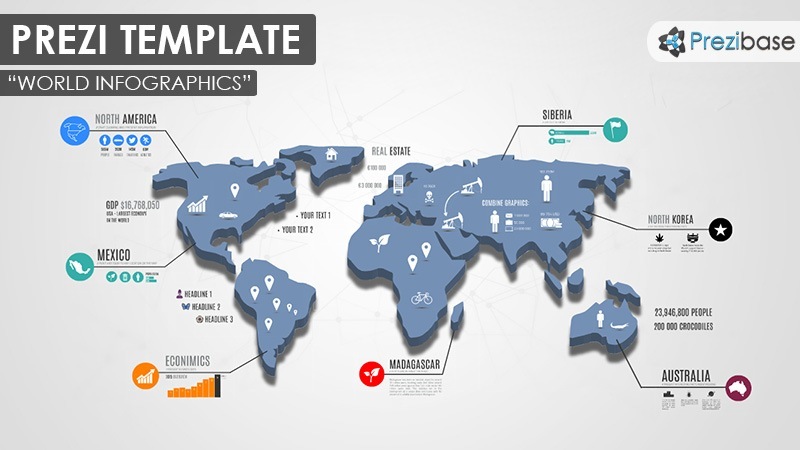 Prezi Template for presenting world map infographics, geography, politics, statistics, facts, business, reports, etc. A zoomable blue 3D World map with icons, symbols, charts, and lines – everything you need for a world related presentation.
Zoom into different continents – illustrate content with symbols and zoom in for details. Create a creative report, talk about different countries or nations, customize the template for various topics.
A good template for a colorful business or educational presentation.